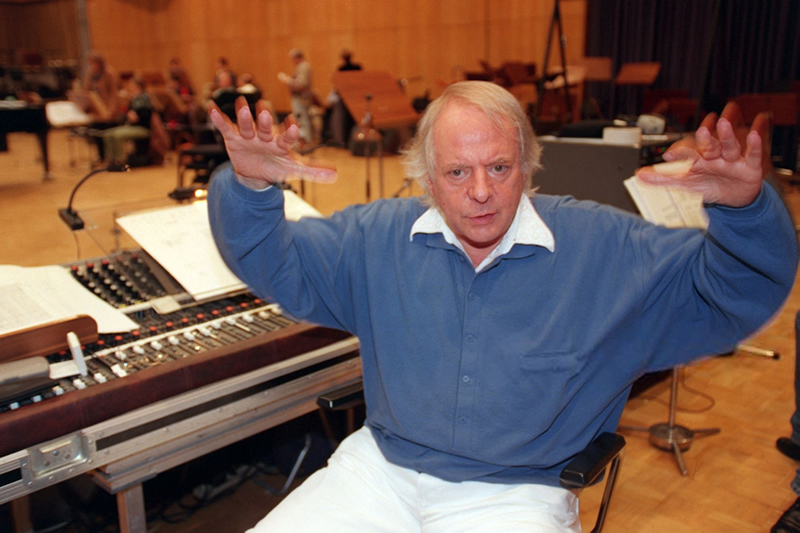 Instrumentation Works for Orchestra
Karlheinz Stockhausen
Instrumentation Works for Orchestra
TRANS
INSTRUMENTS
Group I
4 flutes
1 bass clarinet (Boehm-System with the low C to achieve a fuller and louder sound)
1 celesta (electrically amplified)
1 percussionist: 5 cinelli1)
(see below), notated

Indian bell wreath

(about 100 strung on a wire circle), notated

(measures 100 - 196)

Group II
4 oboes
1 trombone with F valve attachment
1 percussionist: 1 vibraphone

1 cowbell2)


notated

1 "sizzle cymbal"3)

1 cymbal4)

Group III
4 B-flat clarinets
1 bassoon
1 contrabassoon
1 percussionist: tubular bells

notated

2 gongs with raised centers

Group IV
4 B-flat trumpets with cup mute
1 tuba
1 percussionist: 3 tom-toms6)

notated

1 bass drum

1 tam-tam7)

1 "infantry drum" (hung over the shoulder)
Bassclarinet, bassoon and contrabassoon, trombone and tuba have leading roles and require excellent players.
| | |
| --- | --- |
| Strings: | 22 violins8) |
| | 8 violas |
| | 6 violoncelli |
| | 4 double basses |
| | |
| | 1 electric organ9) |
EXPLANATIONS OF THE INSTRUMENTS
1) Cinelli are small cymbals (ca. 15 - 27 cm in diameter) mounted on a special stand consisting of an iron arc on which five metal spikes with rubber grips are mounted.
side view: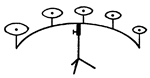 the stand should be sufficiently high, and adjustable so that one is able to strike the cinelli (from above) when standing.
five pitches at approximately equal intervals:

glisteningly bright sound with long resonance.

4 hard India rubber and / or hardwood beaters

rubber and /or felt beaters
Cinelli and stand are available from the firm PAISTE (Luginbühl bei Luzern, Switzerland, and Paiste GmbH & Co. KG, Gorch-Fock-Str. 13, D-24790 Schacht Audorf, Germany.
2) cowbell 50 cm high, without clapper, hung on a high gong or tam-tam stand.
side view: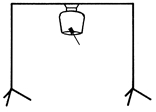 the stand should be sufficiently high so that one is able to strike the cowbell against the lower edge when standing.

heavy iron clapper (taken from the bell)

for less loud, yet hard attacks, hardwood or hard vibraphone beater

thick felt beaters
3) "sizzle cymbal" — a large cymbal (ca. 70 em in diameter) into which holes have been bored; in these holes are loose metal rivets that rattle as soon as the cymbal is struck. On the normal kind of stand.
4) A large cymbal (ca. 75 cm in diameter) on a stand. This cymbal should not be too thick, so that it "hisses" when struck hard. "Sizzle cymbal" and large cymbal also obtainable from the firm PAISTE.
5) The gongs with raised centers should sound as low as possible and have different pitches (Thai, Javanese or similar gongs).
6) The pitches of the tom-toms should be tuned approximately in intervals of major seconds and be fairly low (e.g.

).
7) Tam-tam at least 80 cm in diameter. The sound should have a high noise stockhausen-content, i. e. it should not sound like a gong (relatively thin metal). Obtainable from PAISTE.
8) The violins and the violas need arm rests on which to support their left arms during the whole performance (because of the continually sustained long notes). These arm rests should be adjustable in height, padded with foam rubber on the small upper resting surface, and completely unobtrusive.
9) The electric organ must go down to

.
Big Hammond organs go down to

with an 8' stop, and the 16' stop gives the lower octave. One should try to obtain an organ on which this lowest octave is not added on, but which sounds as a fundamental without upper octave doublings.
PERFORMANCE MATERIAL
a) Individual parts for
21 wind instruments
1 celesta
4 percussionists
These instrumentalists have music stands.
b) Individual parts for
22 violins, numbered: Violin 1 to Violin 22
8 violas, numbered: Viola 1 to Viola 8
6 violoncelli, numbered: Cello 1 to Cello 6
4 double basses, numbered: Double Bass 1 to Double Bass 4
For each string player, all the notes to be played are printed on one small sheet of cardboard. In the case of the violins and violas, this sheet is fastened upright on the scroll with a paper clip and rubber band; in the case of the celli and double basses, it is attached to the instrument on the bridge. The reverse side of the cardboard should be of the same dark brown colour as the instrument.
1 electric organ
c) 1 extra page each for the trumpet solo, viola solo, and cello solo.