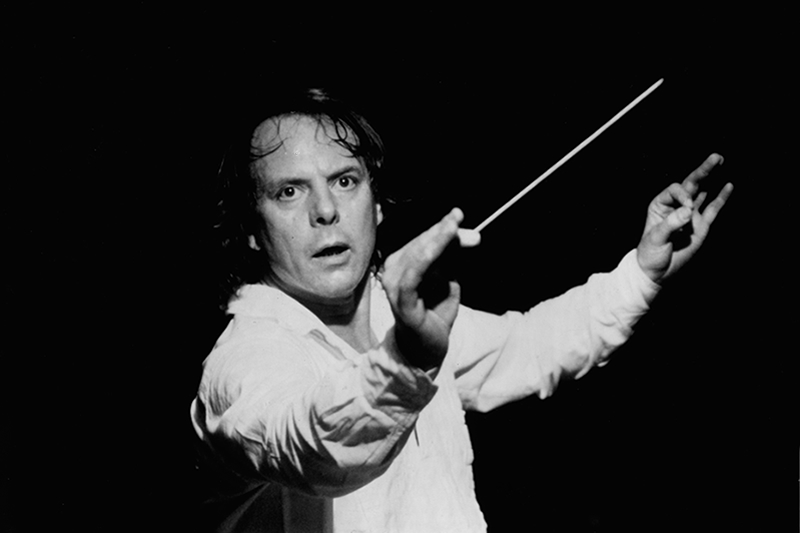 works for orchestra
Stockhausen Complete Edition on CD
Since 1991, a complete edition of all recordings in which Karlheinz Stockhausen has personally participated is being released on compact discs. Each CD in this series is identified by Stockhausen's signature followed by an encircled number. The numbers indicate the general historical order of the works.
Stockhausen realised the electronic music and participated in these recordings as conductor, performer, sound projectionist, and musical director. He personally mixed down the recordings, mastered them for CDs, wrote the texts and drew the covers.
The compact discs may be obtained from the Stockhausen-Verlag: Kettenberg 15, 51515 Kuerten, Germany (www.stockhausenCDs.com).
Karlheinz Stockhausen
composed 37 works for orchestra
from 1950 to 2007.
[9'21"] = duration of 9 minutes and 21 seconds (durations with minutes and seconds: CD durations of the Complete Edition).
U. E. = Universal Edition.
St. = Stockhausen-Verlag.
Special microphones and receivers (not listed) belong to the transmitters indicated.
Abbreviations
cond. = conductor; only the works with this indication are conducted.
micr. = microphone(s).
loudsp. = loudspeakers.
sound proj. = sound projectionist, who also controls the lighting from the mixing console in the hall (see scores).
tape rec. = tape recorder.
synth. player = synthesizer player.
The world premières of works listed as "not yet premièred" may be commissioned.
Duration
Publisher
CD of the
Stockhausen
Complete Edition
1950
DREI LIEDER (THREE SONGS)
for alto voice and chamber orchestra (cond.)
(fl. / 2 cl. / bsn. / tp. / trb. / 2 perc. / piano / elec. harpsichord / strings)
[19'26"]
U. E.
(Universal Edition)
1
1951
FORMEL (FORMULA)
for orchestra [28 players] (cond.)
[12'57"]
U. E.
2
1952
SPIEL (PLAY)
for orchestra (cond.)
[16'01"]
U. E.
2
1952/1962
1993
PUNKTE (POINTS)
for orchestra (cond.)
[ca. 27']
U. E.
2,81
1952
to 53
KONTRA-PUNKTE (COUNTER-POINTS)
for 10 instruments (cond.)
(fl. / cl. / bass cl. / bsn. / tp. / trb. / piano / harp / vl. / vc.)
[14'13"]
U. E.
4
1955
to 57
GRUPPEN (GROUPS)
for 3 orchestras (3 cond.)
[24'25"]
U. E.
5
1959
to 60
CARRÉ
for 4 orchestras and 4 choirs (4 cond.)
[ca. 36']
U. E.
5
1962
to 64
(finished in '69)
MOMENTE (MOMENTS)
for solo soprano, 4 choir groups
and 13 instrumentalists (cond.)
[113']
St.
(Stockhausen-Verlag)
7,80
1964
MIXTUR (MIXTURE)
for orchestra, 4 sine-wave generators and
4 ring modulators (cond.)
[ca. 2 x 27']
U. E.
1964
to 1967
MIXTUR (MIXTURE)
for small orchestra (cond.)
(fl. / ob. / cl. / bsn. / tp. / 2 hn. / trb. /
3 perc. / 8 vl. / 4 vla. / 2 vc. / 2 db. /
4 generator players / 4 sound mixers)
[2 x 27']
U. E.
8
2003
MIXTUR 2003 (MIXTURE 2003)
for 5 instrumental groups, 4 sine-wave generator players,
4 sound mixers with 4 ring modulators,
sound projectionist (cond.)
[2 x 27']
St.
1965
STOP for orchestra (cond.)
[ca. 20']
U. E.
1969
STOP "Paris Version" (19 players, cond.)
for example: I ob. / piano / synth.;
II synth. / tp. / vc.;
III vibra. + tam-tam / bass cl. / elec. cello;
IV Engl. hn. / synth. / bsn.;
V cl. / vl. / harp / trb.;
VI fl. / elec. bsn. / hn.
[20'36"]
U. E.
2001
STOP und START (STOP and START)
for 6 instrumental groups
[21'30"]
St.
64
1969
HYMNEN (Dritte Region) / ANTHEMS (Third Region)
electronic music with orchestra (cond.)
[ca. 42']
St.
74
1969
FRESCO
for 4 orchestra groups (4 cond.)
[ca. 5 Stunden]
U. E.
All of the following works are published by the Stockhausen-Verlag.
1971
TRANS
for orchestra (cond.) and tape
[ca. 27']
19
1972
YLEM
for 19 players / singers (cond.)
(for example 19 instr.: fl. / ob. / Engl. horn. / cl. / bass cl. / bsn. /
hn. / tp. / trb. / vl. / 4 synthesizers / elec. vc. / vc. /
piano / harp / vibr.)
[ca. 26']
21
1973
to 74
INORI
Adorations for one or two soloists and large orchestra (cond.)
(To date, the soloists were dancer-mimes)
or (notated in the same score)::
[ca. 70']
U. E.
22
INORI
Adorations for one or two soloists and small orchestra (cond.)
(33 instr.: 2 fl. / 2 ob. / 2 clar. [2nd also clar.] /
2 bsn. [2nd also contra -bsn. ] / 2 trp. / 2 hn. I / 2 hn. II /
2 trb. [2nd also bass trombone] / 1 tuba /
3 vl. I / 2 vl. II / 2 vla. / 2 vc. / 2 db. / 1 piano / 4 perc.)
1974/1977
ATMEN GIBT DAS LEBEN (BREATHING GIVES LIFE)
Choir Opera with orchestra
(orchestra with cond.)
[ca. 53']
23
1974/2004
FÜNF STERNZEICHEN (FIVE STAR SIGNS)
for orchestra (Dir.)
[ca. 11']
100
1974/2007
FÜNF WEITERE STERNZEICHEN (FIVE MORE STAR SIGNS)
for orchestra (Dir.)
[ca. 20']
100
1977
JUBILÄUM (JUBILEE)
for orchestra (cond.)
[16']
100
1977
DER JAHRESLAUF (THE COURSE OF THE YEARS)
für Modernes Orchester, Tonband, Klangregisseur
[ca. 46']
29
1978
MICHAELs REISE UM DIE ERDE
(MICHAEL'S JOURNEY ROUND THE EARTH)
with trumpet and orchestra (cond.)
(Act 2 of THURSDAY from LIGHT)
[ca. 50']
30
1978
DONNERSTAGS-GRUSS (MICHAELS-GRUSS)
THURSDAY GREETING (MICHAEL'S GREETING)
for 8 brass instruments, piano, 3 percussionists (cond.)
[ca. 11']
30
1980
FESTIVAL (scene of MICHAEL'S HOME-COMING)
for tenor, soprano, bass / trumpet, basset-horn, trombone /
2 soprano saxophones / elec. organ (or synth.) /
3 dancer-mimes / old woman / choir and orchestra (cond.) / tapes
[50']
30
1983
LUZIFERS TANZ (LUCIFER'S DANCE)
(3rd scene of SATURDAY from LIGHT)
for bass (or trombone or euphonium),
piccolo trumpet, piccolo flute /
symphonic band or symphony orchestra (cond.)
(and stilt-dancers, dancer, ballet or mimes for staged performances)
[ca. 50']
34
1984
SAMSTAGS-GRUSS (LUZIFER-GRUSS)
SATURDAY GREETING (LUCIFER'S GREETING)
for 26 brass instruments and 2 percussionists)
[ca. 8']
34
1987/1988
DIENSTAGS-GRUSS (TUESDAY GREETING)
(WELCOME with PEACE GREETING)
for soprano / 9 trumpets, 9 trombones, 2 synthesizer players /
choir, conductor and co-conductor
[21']
40
1994
KINDER-ORCHESTER (CHILDREN'S ORCHESTRA)
(for example 16 instruments) and soprano (also as cond.),
flute, basset-horn / a synthesizer player /
electronic music / sound projectionist
[6' ]
50
1994
KINDER-TUTTI (CHILDREN'S TUTTI)
for children's orchestra, children's choir /
soprano (also as cond.), bass / flute, basset-horn /
a synthesizer player / electronic music / sound projectionist
[7' ]
50
1995/1996
ORCHESTER-FINALISTEN (ORCHESTRA FINALISTS)
(2nd scene of WEDNESDAY from LIGHT)
for orchestra (26 or 13 instrumentalists) /
electronic and concrete music / sound projectionist
[2 x 45', staged 46']
52
1992/2002
EUROPA-GRUSS (EUROPE GREETING)
for wind instruments (and synthesizers ad lib.) (poss. cond.)
[ca. 12'30"]
64
1998/99
LICHTER – WASSER (SONNTAGS-GRUSS)
LIGHTS – WATERS (SUNDAY GREETING)
(1st scene of SUNDAY from LIGHT)
for soprano, tenor and orchestra with synthesizer (cond.)
[ca. 51']
58
2001/2002
HOCH-ZEITEN (HIGH-TIMES)
(5th scene of SUNDAY from LIGHT) for orchestra (cond.)
[ca. 35']
72,73