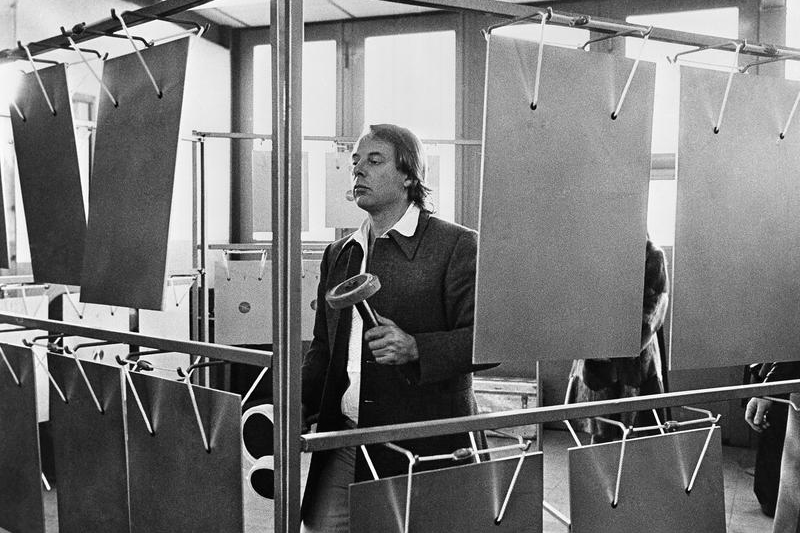 Instrumentation Works for Orchestra
Stockhausen Complete Edition on CD
Since 1991, a complete edition of all recordings in which Karlheinz Stockhausen has personally participated is being released on compact discs. Each CD in this series is identified by Stockhausen's signature followed by an encircled number. The numbers indicate the general historical order of the works.
Stockhausen realised the electronic music and participated in these recordings as conductor, performer, sound projectionist, and musical director. He personally mixed down the recordings, mastered them for CDs, wrote the texts and drew the covers.
The compact discs may be obtained from the Stockhausen-Verlag: Kettenberg 15, 51515 Kuerten, Germany (www.stockhausenCDs.com).
Karlheinz Stockhausen
Instrumentation Works for Orchestra
SPIEL / PLAY
for orchestra
No. ¼ (1952)
PLAYERS:
3 oboes
3 clarinets in A
3 bassoons
1 double bassoon
3 horns in F
7 percussion players
(see below for disposition
of percussion instruments)

i. e. 9 percussion players in all; the parts of the 7 percussionists have been kept so simple that - as in the 1952 premiere - the string and wind players in the orchestra can also undertake some of the parts.
1 glockenspiel
1 vibraphone with variable
vibrato and long
resonance (ca. 8 sec.)
for all pitches
1 celesta and 1 electronic organ
(1 player);
organ with two foot stop which sounds on its own (i. e. not as a coupling), and as high in range as the piano.
1 piano
Violins (6 parts)
in rehearsing the revised version of
1973, Stockhausen used:
6 x 2 violins (6 desks)
3 x 2 violoncelli (3 desks)
3 x 2 double basses (3 desks)
Violoncelli (3 parts)
Double basses (3 parts)
all with C strings
TRANSPOSING INSTRUMENTS:
Clarinets in A sound a minor third lower than written.
Double bassoon sounds an octave lower than written.
Horns in F sound a fifth lower than written.
Glockenspiel sounds two octaves higher than written.
Celesta sounds an octave higher than written.
Double basses sound an octave lower than written.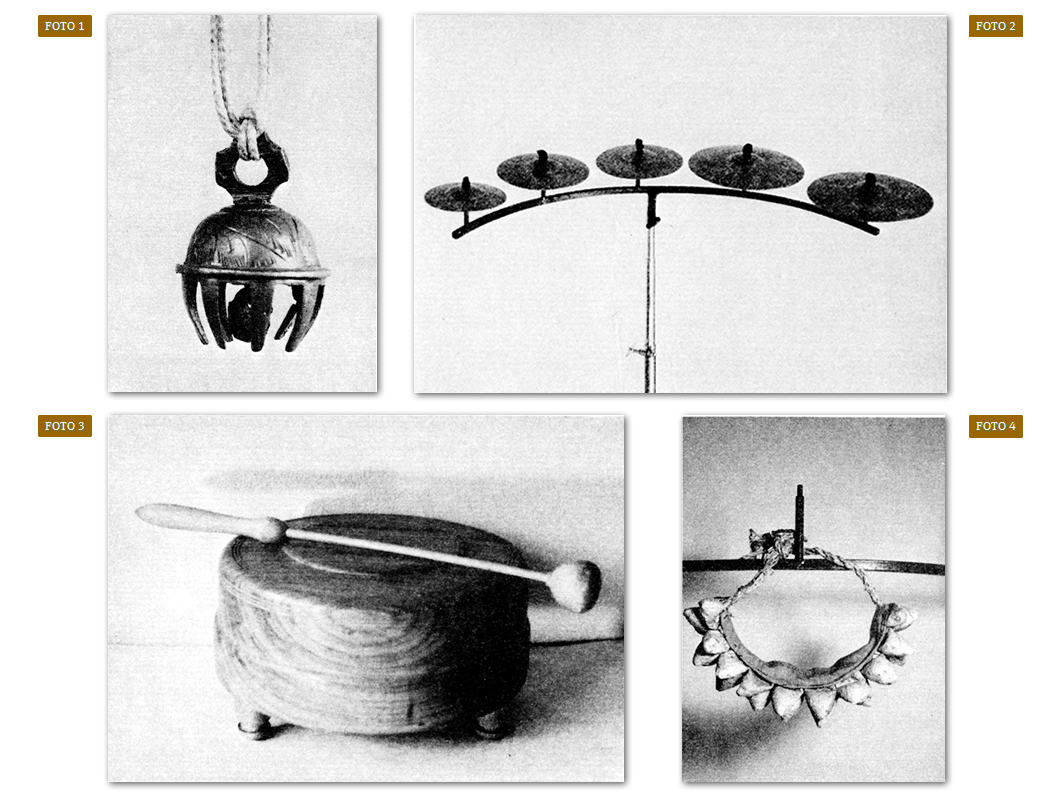 PERCUSSION INSTRUMENTS:
Percussion 1
1st movement:
1) small INDIAN BELL with a lead clapper inside: FOTO 1 *


tied up tightly, struck with a metal rod (triangle beater); main pitch e. g.

long brilliant sound.
2) TRIANGLE, fairly high
2nd movement:
5 "CINELLI" (small thick cymbals, ca. 15-27 cm. in diameter) on a special stand with
a horizontal iron arc on which there are 5 metal spikes with thimble-shaped rubber
supports: FOTO 2
Main pitches in the sound of the
"Cinelli" selected by Stockhausen
at the Paiste firm (thick
notes = dominant pitch):

For the quiet notes use a knitting needle,.
for the loud ones use a beater with a wooden head.

Paiste GmbH & Co. KG, Gorch-Fock-Str. 13, D-24790 Schacht Audorf, Germany
↑ = slightly higher
↓ = slightly lower
one should choose
similar "Cinelli"
(equal distance between the dominating
pitches would be better still).
Percussion 2
1st movement:
1 higher
1 lower
CYMBAL
on stands
pitches e. g. ca.



cf. percussion 3, 2nd
movement. Thick notes
dominate in a soft
attack mp at the edge,
bracketed ones in a
loud attack with soft
leather over thick
wooden beater.
2 TOM-TOMS
hard felt beaters (for cymbals too)
2nd movement:
the same 2 CYMBALS as in the 1st movement
4 beaters from soft to hard e. g. 1. soft felt

2. hard rubber

3. wood with leather

4. very hard plastic (glksp./xylophone beater).
Percussion 3
1st movement:
1 WOODBLOCK pitch
; preferably a Japanese woodblock: FOTO 3
(diameter 23.5 cm, height 12.5 cm;
beater with wooden head)
2 TEMPLE BLOCKS pitches
2nd movement:
1 higher
1 lower
CYMBAL
on stands
4 beaters soft to hard,
see percussion 2
Percussion 4
1st movement:
HIHAT
The two plates should be carefully arranged in such a way that after the attack they rattle
against each other for at least 5 seconds. Method of playing in the 1st movement:
= tread briefly, = allow to rattle, = tread and keep closed
2nd movement:
HIHAT
4 beaters from soft to hard e. g. 1. soft felt


2. hard vibes beater with twine

3. beater with plastic head

4. metal rod

Percussion 5
1st movement:
1 AFRICAN POD RATTLE
Dried seed pods in 4 rows of 10 each, attached to a cloth and suspended with twine,
struck with a drumstick against the cloth (sounds like loud maracas — but broader in
spectrum —, or like a plastic box with grains of shot): FOTO 4
1 SIDE DRUM with snares, very high and bright; very thin sticks.
2nd movement:
1 LARGE SIZZLE CYMBAL
on a stand (resonating for as long as possible)
4 beaters from soft to hard (like percussion 2).
Percussion 6
1st movement:
1 "RATCHET", but less sharp than the normal ones: a trellis of wooden rods, along which
one scrapes with a thin stick (pencil); e. g. along the back rest of a wooden chair with
a trellissed back:
scraping to and fro. Pitches such as
2 CYMBALES ANTIQUES
mounted on 2 spikes in a small wooden board

with metal beater
2nd movement:
3 TOM-TOMS pitches
4 beaters from soft to hard
Percussion 7
1st movement:
2 TAMTAMS, suspended
1 PEDAL KETTLEDRUM pitches
drum beaters (also for tamtams)
2nd movement:
the same PEDAL KETTLEDRUM
1 BASS DRUM pitch or
4 beaters from soft to hard
All beaters should be tried out and agreed upon with the conductor.
Suggestion for an ARRANGEMENT OF THE ORCHESTRA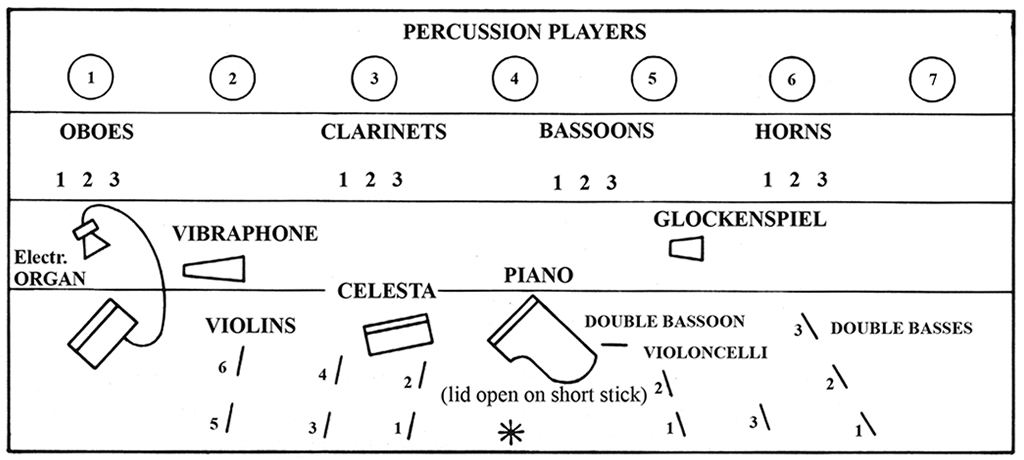 REHEARSALS:
for the first performance of the new version, made in July 1973 with the Südwestfunk Baden-Baden Symphony Orchestra under the direction of the composer, the following rehearsals were made:
| | | |
| --- | --- | --- |
| 2nd July | 10.00-12.00 | Percussionists 1-7 |
| | 12.00-14.00 | Piano |
| | | Celesta (organ) |
| | | Glockenspiel |
| | | Vibraphone |
| | | Double bassoon |
| | 16.00-18.00 | Percussionists 1-7 |
| | 18.00-20.00 | Strings and winds (without double bassoon) |
| 3rd July | 9.30-11.30 | Percussionists 1-7 |
| | 12.00-14.00 | All the other players |
| | 16.00-18.00 | Tutti |
| 4th July | 10.00-13.00 | Tutti (with recording team already testing microphones) |
| | 15.00-17.00 | Tutti: rehearsal and recording of the 1st movement |
| 5th July | 9.00-13.00 | Tutti: recording of both movements with improved microphone placings |