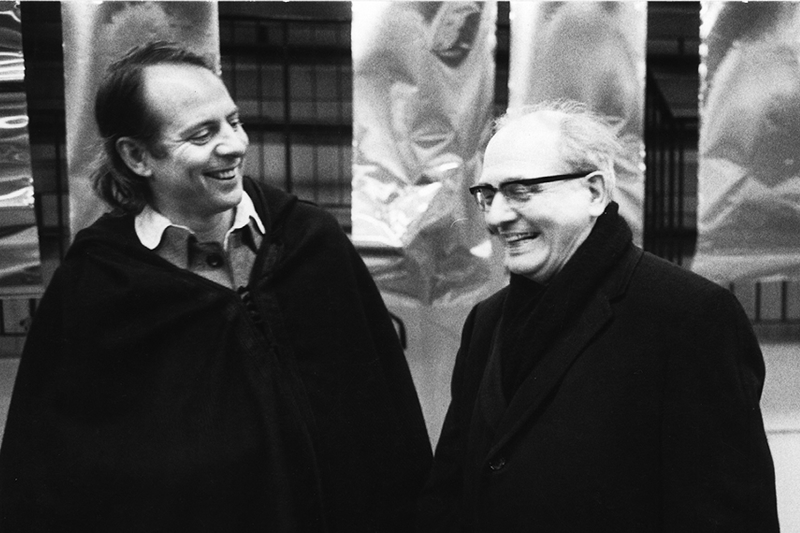 Instrumentation Works for Orchestra
Karlheinz Stockhausen
Instrumentation Works for Orchestra
MIXTUR
MIXTUR for orchestra (small ensemble), sine—wave generators and ring—modulators
SCH = PERCUSSION
H = WOODWIND
B = BRASS
P = PIZZICATO
S = STRINGS
There is only one part for each group of instruments. All parts have the same page numbers in the upper right hand corner as in the score. 2 players read from one part and have 2 stands.
SCH

3 percussionists: each 1 cymbal

1 tam-tam

each is suspended with several leather straps; for each and each 1 contact microphone fastened onto the straps or onto the surface of the instruments.
H
flute (also piccolo) (F1)
oboe (Ob)
clarinet (also clarinet and bass clarinet) (Kl, Es—Kl, Bkl)
bassoon (also contrabassoon) (Fg, CFg)
B
trumpet (Tp)

Tp and Ps require 3 mutes: straight, cup, wawa.
trombone (with thumb valve) (Ps)
high horn (1. Hn)
low horn (2. Hn)
P
2 violins I ( V1 I )
2 violins II ( V1 II )
2 violas (V1a)
violoncello (Vc)
contrabass (Cb)
S
2 violins I
2 violins II
2 violas
violoncello
contrabass
The parts include transpositions for piccolo,
clarinet,

clarinet,
bass clarinet, contrabassoon, F horns (1. Hn high sounds a 5th lower, 2. Hn low sounds a 4th higher), contrabass.
The contact microphones of the 3 percussionists are to be connected to 3 loudspeakers (see position in the plan).
Each of the groups H B P S should sit concentrated and be separated from the others as much as possible. Every woodwind and brass player and every desk of violins and violas has a microphone; all Vc and Cb have individual microphones. The 4 microphone groups H B P S are each balanced in a mixer by a sound technician sitting with his group. The sum of each group is connected to a separate ringmodulator (if possible, special modulators, which give only the primary sum and difference frequencies).
4 further players, who also sit with their groups, each operate a beat frequency oscillator (sine-wave generator with continuously changeable frequency from 1 - or if possible a still lower frequency - to 4200 Hz). Each of these beat frequency oscillators is connected to one of the modulators. The oscillators are indicated in the score by ~.