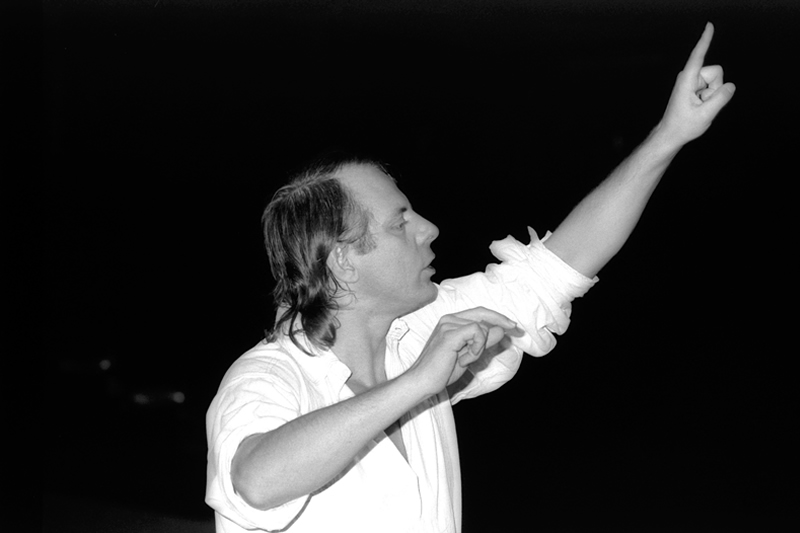 Instrumentation Works for Orchestra
Stockhausen Complete Edition on CD
Since 1991, a complete edition of all recordings in which Karlheinz Stockhausen has personally participated is being released on compact discs. Each CD in this series is identified by Stockhausen's signature followed by an encircled number. The numbers indicate the general historical order of the works.
Stockhausen realised the electronic music and participated in these recordings as conductor, performer, sound projectionist, and musical director. He personally mixed down the recordings, mastered them for CDs, wrote the texts and drew the covers.
The compact discs may be obtained from the Stockhausen-Verlag: Kettenberg 15, 51515 Kuerten, Germany (www.stockhausenCDs.com).
Karlheinz Stockhausen
Instrumentation Works for Orchestra
ATMEN GIBT DAS LEBEN (Breathing Gives Life)
Orchestra for part II
3 flutes
3 oboes
3 clarinets
3 bassoons
3 trumpets
Mutes: 1st trp. cup, wawa
3 higher horns (I)

2nd trp. cup, straight

3 lower horns (II)

3rd trp. cup, wawa

3 trombones

1st trb. cup

1 tuba

2nd trb. cup, straight

3rd trb. cup, wawa

all horns need mutes

1 triangle, large cymbal, bass drum
1 glockenspiel
1 piano

1st violins



number ad lib.,
for instance 9-9-6-6-4

2nd violins

violas

'cellos

double basses
All pitches sound as written.
An accidental refers only to the note which it precedes.
The orchestra can be recorded and then played back for performances.
The tape can be rented from the Stockhausen-Verlag, (51515 Kürten, Germany).
Playback of the tape
1 tape recorder, 2-track stereo, 19 or 38 cm./ sec.
1 potentiometer box
4 loudspeakers (for example 4 x 100 watts)
Place the tape recorder on a low chair or on the floor in the middle of the hall. The machine (tape conveyance, etc.) should be absolutely noiseless; if this is not the case, the tape must be played from outside the hall with remote control.
The potentiometer box should be small and not higher than 40 cm. from the floor. The audience should not see either of the two apparatuses.